Creative people are often considered to be "out of the box" thinkers. One way that we can help our children become more creative is by exposing them to a variety of art mediums, such as acrylic paint.
This article will discuss whether or not it's safe for kids to use acrylic paint and what precautions you should take when painting with your child.
I'll also talk about how parents can encourage their child's creativity while still ensuring they're staying safe.
Is Acrylic Paint Safe for Kids?
Yes, it is. Acrylic paint is water-based and non-toxic in most cases, which means that you don't need to worry about your kids getting sick if they get a little bit on their hands, or on their feet.
There are several different acrylic paints out there, so make sure to read the label on whatever product you choose so you know what the ingredients are.
Acrylic paint is made of pigment, a binder (usually a resin), and usually water. The pigments may contain heavy metals which could cause health problems including headaches, nausea, dizziness, fatigue, irritability, and weight loss when inhaled or ingested over time. However, the amount of heavy metal in acrylic paint needs to be considered before labeling it as unsafe for children.
In most cases, the amount is almost non-existent and doesn't pose any risk to your or your kid's health. But it is always recommended that you check the ingredients in the paint carefully so that you're 100% sure about the safety of kids.
Can You Use Acrylic Paint For Handprints and Footprints?
Many parents use acrylic paint when making handprints and footprints for keepsakes. Acrylic paint is non-toxic, so it's perfectly safe to use in these cases.
You will want to make sure that you're using a light-colored print pad for this though because the dark colors could possibly leave behind stains on the carpet or by the door when you are dealing with kids.
The paint will also dry quickly in these spots, so make sure you put down a piece of paper or some cardboard to protect the floor from getting dirty.
I recommend that you always do this on a hard surface instead of carpet for your own sanity. You'll thank me later when it comes time to clean up.
How to Use Acrylic Paint for Baby Handprint and Footprint?
When it comes to creating your baby's hands and footprints, the sky is the limit with your imagination. You can use just about anything to capture these precious moments from paint on plain paper to t-shirts, blocks, or even on canvas.
A creative idea for preserving the hand and footprints of your growing infant is by using clear acrylic paint. Here is what you need to know before diving in-
Gathering the Essentials
For this project, you will need a container to mix the paint in. A 2 cup measuring cup works well if you want to create one set of handprints and footprints at a time; however, creating more than one print at once is easy by using larger containers such as plastic bowls with lids.
You will also need baby oil or petroleum jelly such as Vaseline for the baby's hands and feet so that the paint does not dry on their skin.
So, here are things you should gather first-
Prepare Your Kid's Fingers and Toes
Before you start to paint, it's important that you clean the child's hands and feet with a baby wipe or by rinsing under warm water. Once they're dry, you can also massage a bit of petroleum jelly on the little fingers and toes so the thick consistency of the paint doesn't stick to the kid's skin.
Prepare the Paint and Canvas
Pour the paint into your mixing bowl and add a few drops of water to thin it out. The consistency should be similar to pancake batter; not too thick, but not so runny that paint will drip off the skin when you move the hands or feet to create prints.
The canvas materials should be wisely chosen as the wrong canvas can ruin all your efforts. Acrylic paints are not suitable for fabric or unprimed paper and so it's important that you use a canvas that will hold the paint. Avoid using old canvases or those with excessive amounts of previous paint on them. You can either create your own painting board by attaching foam core to a primed artist canvas board or buy one which is pre-made.
Carefully Complete the Printing Job
The actual process of printing the hands and feet is simple. Dip each finger or toe into the paint, then press onto your canvas in a place that you like. Try to keep the child's hand or foot in position for at least two seconds to make sure there is enough coverage with paint. If you are creating more than one print on a canvas, be sure to give each child a different color of paint so that you can easily tell whose print is whose.
If you want the handprints to look just like the actual hands that created them, make sure the child's fingers are spread out and not pressed together.
When it comes time for feet prints, kneeling down next to your child, offer a hand to help them step onto the canvas. Then guide each foot into place and let them know to leave it there for about two seconds before lifting their feet up.
Once all of your prints are created, allow them to dry completely before hanging or displaying on a wall.
Quickly Get Acrylic Paint off Baby Skin
When you are done creating your prints, be sure to clean up quickly. Place a towel in the container you used to mix the paint to keep any drips or spills contained and then use another towel to wipe most of the paint off your kid's hands and feet. If some paint is still on their skin, just add a bit more baby oil to their hands and gently rub until all of the paint is removed.
Here are some of the fastest ways to get acrylic paint off baby skin other than using baby oil-
Use Rubbing Alcohol
Rubbing alcohol is much more effective at removing acrylic paint than baby oil. Simply pour a bit of it on a cotton ball and rub off the top layers of paint until you've revealed clean skin. If some paint remains, try using another layer of rubbing alcohol to remove this last bit.
Petroleum Jelly and Soap
If you don't have rubbing alcohol on hand, try scrubbing the paint off of your kid's skin with a bit of petroleum jelly or vegetable oil mixed with soap. Use your finger to rub this mixture over the painted area and then rinse clean.
Apart from these, you can use hand sanitizer, butter, and other components that are mostly made of oil or rubbing alcohol to eliminate the last bit of acrylic paint off your baby's skin.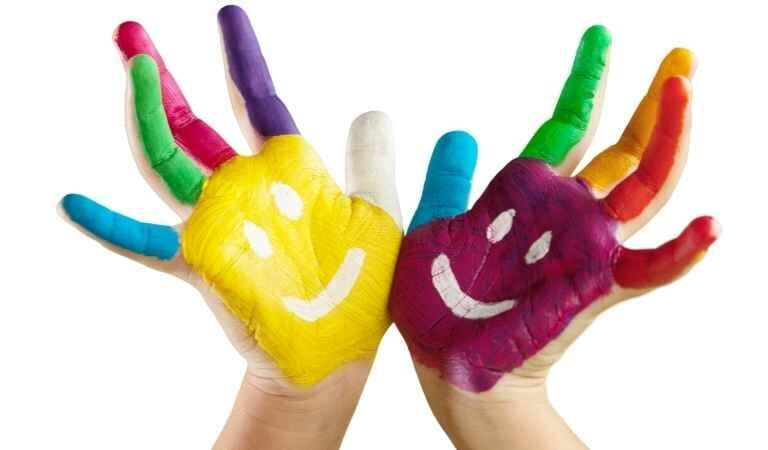 Is it Safe to Use Acrylic Paint for Babyprint?
It's quite safe to use acrylic paint for baby prints. However, care should be taken when using it for children. While acrylic doesn't pose any harm, the additives used in the making of some acrylic paints can cause skin irritation, allergic reaction, and other issues.
Therefore, you should test it on a small patch of skin to make sure that your baby won't develop any irritation as a result of contact with the paint.
Safest Paint For Kids
The safest paints are watercolors, tempera paint, and poster paint. They're good because they don't contain many additives that could harm your child. If you're determined to use acrylics but are worried about the additives, look for brands that have few or no phthalates in them.
Watercolors
Watercolors are safe for children in that they do not contain many additives that could inflict harm on them and their skin. Watercolor paints are made up of pigments suspended in water, so the only ingredient in watercolor is pigment. This means that the paint has no additives and is just pure pigment. Other paints such as acrylics have a number of ingredients added into them including solvents, binders, fillers, stabilizers, and driers. These additives could be potentially hazardous to your child's health if they come into contact with it or ingest it.
Tempera Paint
Tempera paint is water-based paint that comes in tubes. It includes pigments and liquid watercolor and it is mixed with cornstarch, chalk, or alum to thicken it before use. Tempera paint is very safe for children because the additives are minimal and only include pigment. The additives in tempera paint are not toxic and pose no harm to your child.
Top Paints For Baby Handprint and Footprints
Here are the top 3 recommendations that you can use for baby keepsakes-
1. ReignDrop Ink Pad For Baby Footprint & Handprint
This product has been around for a while, and it's still going strong. Why? Easy to use, non-toxic ink that spares your baby from unnecessary chemicals; combines with the commitment of not using any other process (wax or plaster.)
It works in cold temperatures too. This is a very versatile product – suitable for babies who are playful enough to place their feet flat on the tray but also an option for adults who want their toddler's little handprints as keepsakes when they grow up. The print pad is just one more way to capture memories!
Check Price on Amazon
2. Veggie Baby Finger Paints for Toddlers
Although many parents are hesitant to give their little ones unstained fingers, Veggie Paint provides a pure, safe alternative for impromptu finger-painting.
The finger paints come in vibrant colors and use only natural ingredients that won't make your child sick or mess up the house. This is an artful staple for any playroom! For those who want to create hand or footprints and fear about their child putting the hands in the mouth, then this edible finger paint is a savior.
Check Price on Amazon
3. Caliart Acrylic Paint Set For Beginners & Kids
Imagine the potential of your child's imagination with this Caliart Acrylic Paint Set. The 24 – 2 oz bottles come in a set that is certified as safe and non-toxic, so you can rest easy knowing that there are no irritants going near their little hands.
What makes these paints stick out from those found at other stores is the rich pigments; they give each finished work a vibrant quality such as no others available on the market today! Plus, after finishing up some painting fun, kids will be excited to do some handprint or footprint art!
Check Price on Amazon
Is acrylic paint toxic to toddlers?
No, acrylic paints are not toxic to children. However, acrylic paints may cause issues if swallowed. In most cases, swallowing will not lead to any serious health issues. A single swallow of paint may cause mild stomach problems in the short term.
Acrylic paints contain pigments and resins along with other additives. Unfortunately, ingestion or oral exposure (swallowing) of those materials may cause mild stomach problems. This may irritate the lining of the throat, nose, and mouth and may also lead to a burning sensation.
Acrylic paints are non-toxic but additives need to be checked.
Parents should always read labels on paint bottles and avoid paints that contain any questionable additives, such as lead. Lead is a heavy metal and if children eat paint containing lead, this can cause long-term damage to the brain, nervous system, or kidneys.
If your toddler has swallowed a bit of acrylic paint, don't panic. Consult a doctor immediately and make sure to check the ingredients in the paint bottle to refer. Safer paints may cause no issues while some cause damage if not treated in time.
Is acrylic paint safe for kids' toys?
Yes, if the paint is nontoxic and labeled so.
Acrylic paints are non-toxic but make sure to check paint brand labels to verify that a particular product is safe for use on toys. Parents should remember that paint for plastic or rubber surfaces may contain chemicals that are able to damage these materials. So before painting kids' toys, it's best to test paints on small, out of sight areas.
Pro Tips
Tip 1: Always keep acrylic paint covered when not in use to make sure it doesn't dry out or become contaminated with other substances.
Tip 2: Buy the smallest amount of paint possible and discard it if you don't think that you'll use it.
Tip 3: Keep an eye out for allergic reactions and if any develop, stop using the paint immediately.
Tip 4: Mix acrylic paint with water before using it to make your own paint.
Tip 5: To dilute thick acrylic colors, add a little bit of water and stir until the color is consistent with what you want.
Tip 6: Paint applied over a day-old layer of acrylic paint will not stick to the previous layer perfectly.
Tip 7: You can also thicken paint by adding more acrylic powder when mixing colors.
Tip 8: Acrylic paints can be used for many different school projects including portraits of historical figures, still life paintings, and science fair displays.
Tip 9: Mixing a little bit of acrylic paint with watercolor paint can make two-tone colored pieces that look like the work was done with something like pastels.
Tip 10: To keep colors from becoming muddy add the white acrylic powder to your mixture when needed to brighten colors while keeping them transparent enough for light to pass through them.
Tip 11: If you're painting on fabric or other vulnerable materials take safety measures, by protecting the area around it with plastic or newspaper.
Tip 12: Always shake your acrylic paint before using them as this ensures that pigments are evenly distributed and mixed thoroughly.